Dear CHS Families,
Happy Catholic Schools Week! Thank you for your continued support, especially during these recent difficult days. Our Catholic community continues to pull together, lifting each other up when we most need it.
Your feedback is requested through the new Parent Satisfaction Survey. Please take the survey, estimated to take around 15 minutes, by February 26. We value your input! Mrs. Lazarra, Superintendent of Catholic Schools, offers more details in the letter below:
Dear Parents,
As part of our goal to serve the students and families of the Diocese of Richmond Catholic Schools, we would like to know how satisfied you are with the programs and services currently offered to you and your child/ren. In order to assess our performance and your experience, we ask that you complete this brief survey. This should take approximately 15 minutes to complete. We value your opinion and will use your input to ensure that we continue to meet your expectations and provide you and your child/ren with the best possible Catholic school experience. This is an anonymous survey and all responses will be aggregated for review purposes and will remain confidential. Our office will close the survey on Friday, February 26, 2021. If you have more than one child at a school, you may choose to complete another survey or have your answers reflect your overall observations.
With Blessings,
Kelly Lazzara, Superintendent
Office of Catholic Schools
Catholic Diocese of Richmond
Peggy Boon
CHS Principal
Don't forget to use the Papa Johns Crusader Club code for the Super Bowl this weekend! 
Support the Crusader Club by purchasing pizza from Papa John's using promo code CRUSADERS when you place your order online or on the phone, and Papa John's will donate 10% of the sale back to our students! 

In addition, the CRUSADERS promo code is valid for the whole school year from all of the 27 locally owned and operated Papa John's locations in Hampton Roads! Click here to begin your online order: https://www.papajohns.com/order/menu.

Carnation Sale: SCA is selling carnations for Valentine's Day! Carnation orders may be placed to Ms. Adamski (Room 218) or Mrs. Patterson (PE Office), February 1- February 9 for $1.00 each. Students may fill out or print their note and bring it at the time of purchase. This year, we can only accept exact change. Carnations will be distributed during 2nd block on February 12th (Green Day).
 
The Student Council Association (SCA) is selling this year's official CHS Spirit Shirt for $20! Tomorrow is the LAST DAY to place your order. Students may turn in shirt order forms and payment to either room 218 (Jennifer Adamski) or the PE Office (Kristin Patterson). Exact change or checks made payable to CHS are the accepted forms of payments. You may also order online here. Below is a picture of the CHS Spirit Shirt!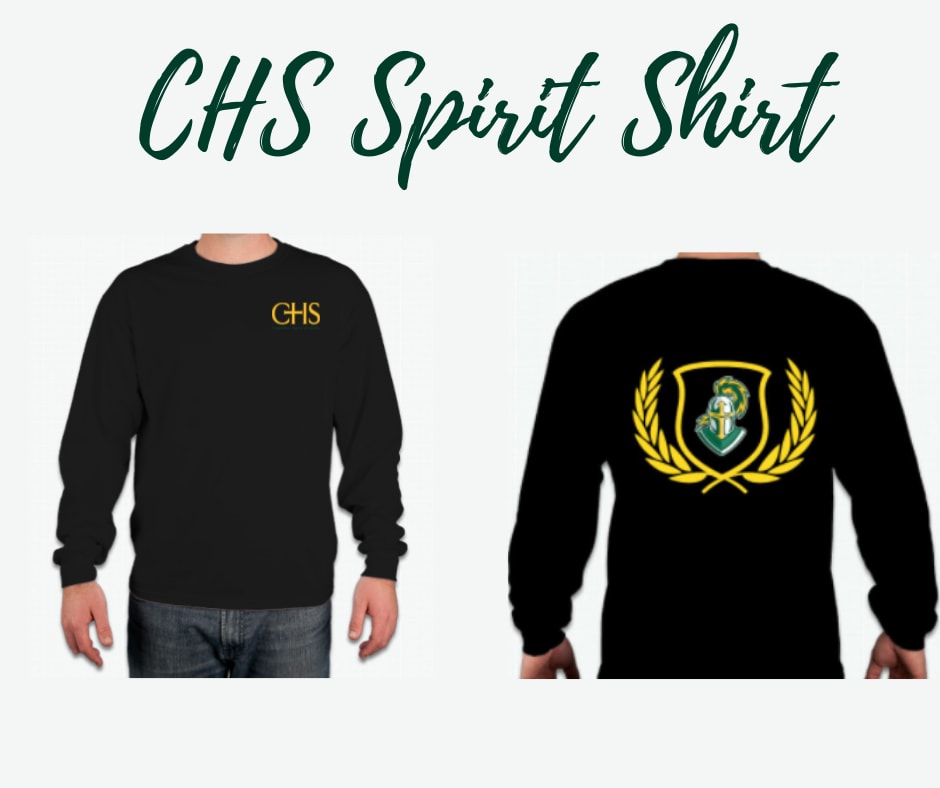 IMPORTANT JUNIOR ANNOUNCEMENT:

College Planning for Juniors: Counselors have started to hold spring meetings with juniors and their parent(s)/guardian(s) for college planning. Here is the Junior Meeting Request Form link for parent(s)/guardian(s) to complete: CHS Junior Meeting Request Form.

Parent(s)/Guardian(s), when making your meeting request, please take into account not only both of your schedules but also your student's schedule. We encourage you to request times that coincide with a student's Study Hall or an elective class. Mrs. Bonvie, our School Counseling Secretary, will then email you to confirm your appointment date and time. If you do not receive the email after College Night, first please check your "Spam" box or email Mrs. Bonvie at bonviet@chsvb.org.

IMPORTANT NOTE TO SENIORS

***If you have already added or in the future add a school to your Common Application or your Coalition application, you must fill out another transcript request form. 

***Midyear transcripts will be sent out by mid-February to every college to which a student has previously applied.  

Common Application colleges will receive midyear transcripts via the Common Application website—no action is required on the part of seniors for Common App schools. 

Coalition Application - please refer to each colleges' website to determine whether they require your midyear transcript. If it is required you must request it for each specific school in the Coalition App.

Parchment - if you previously requested transcripts through Parchment, please request a midyear transcript through that organization.  

***IMPORTANT NOTE TO SENIORS: If you applied to a school and have not received a decision, we suggest that you login to your application to make sure you have submitted everything that is required 

SAT Registration: The registration deadline for the March 13, 2021, SAT is February 12, 2021. Late registration, for an additional fee, is March 2, 2021. Register online at www.collegeboard.org. Catholic High School will be a test site for the March and June SAT dates. 

The next ACT will be April 17, 2021, with a registration deadline of March 12, 2021. Catholic High School is not a test site for the ACT.  Consult www.act.org for further information.   

Sophomores, Juniors, and Seniors: Our annual American Red Cross Blood Drive will be held on Monday, February 8th from 8 AM to 2 PM. You will have an opportunity to save 3 lives by donating a pint of blood! You can sign up to be a donor by scanning the Blood Drive QR code located in your classes OR drop by the School Counseling Office to sign up today. 16-year-old donors must have a signed Parent Consent Form, please scan the Parent Consent Form QR code located in your classes OR pick up a printed copy of the Parent Consent Form in the School Counseling Office. It would be an altruistic way to honor Mrs. McCubbins life!

Here is the Blood Donor link: Blood Drive Donor Sign Up.
2021-2022 CHS SCHOLARSHIP APPLICATIONS: Catholic High School is currently accepting Scholarship Applications for the 2021-2022 school year. As a reminder, the CHS Scholarship Application is done completely online. 

Please visit chsvb.org > Admissions > Tuition, Financial Aid & Scholarship Opportunity > Scholarship Opportunities > 2021-2022 CHS Scholarship Application  

It's also one of the Focus of the Moment tabs.

Please note: CHS SCHOLARSHIP APPLICATIONS ARE DUE ON or BEFORE MONDAY, MARCH 1, 2021.  

FINANCIAL AID APPLICATIONS are due by March 1st. Apply online at online.factsmgt.com/aid. If you have any questions regarding the online application process, you can reach FACTS support at 866-441-4637.

Tuition contracts are emailed on a rolling basis to families that have re-enrolled and did not indicate that they will be applying for financial aid and/or scholarship.  
Our community has experienced an overwhelming loss this week. We mourn the loss of our great educator Mrs. Linda McCubbins. We strive to lift each other up with support and prayer during this difficult time.  Please join in praying for Linda's family and the repose of her soul.
Grief 


Grief and Loss 


Grief is a natural human response to the loss of a loved one. It can show itself in many ways. Grief moves in and out of stages from disbelief and denial to anger and guilt, to finding a source of comfort, to eventually adjusting to the loss. 
During this difficult time, students are encouraged to reach out for help. Please see our Student Assistance Program Counselor, Win Kents article for more information and guidance.


Support from Mr. Kent
Thank you for your continued cooperation! Please feel free to contact me directly with any questions or concerns at dellingerm@chsvb.org or (757)-615-0246.  
Madison Dellinger
CHS School Nurse
This Friday we will celebrate the Super Bowl with pre-game foods of Quarter Pound Hot Dogs and Jumbo Soft Pretzels! These will be available on the food cart in the hallways at both lunches.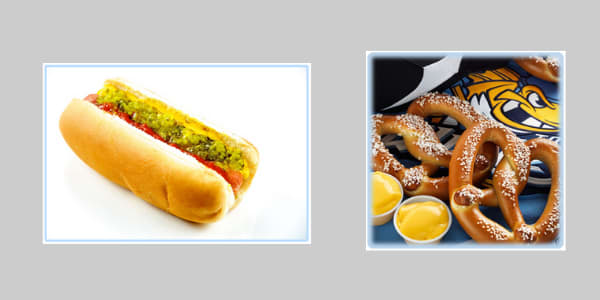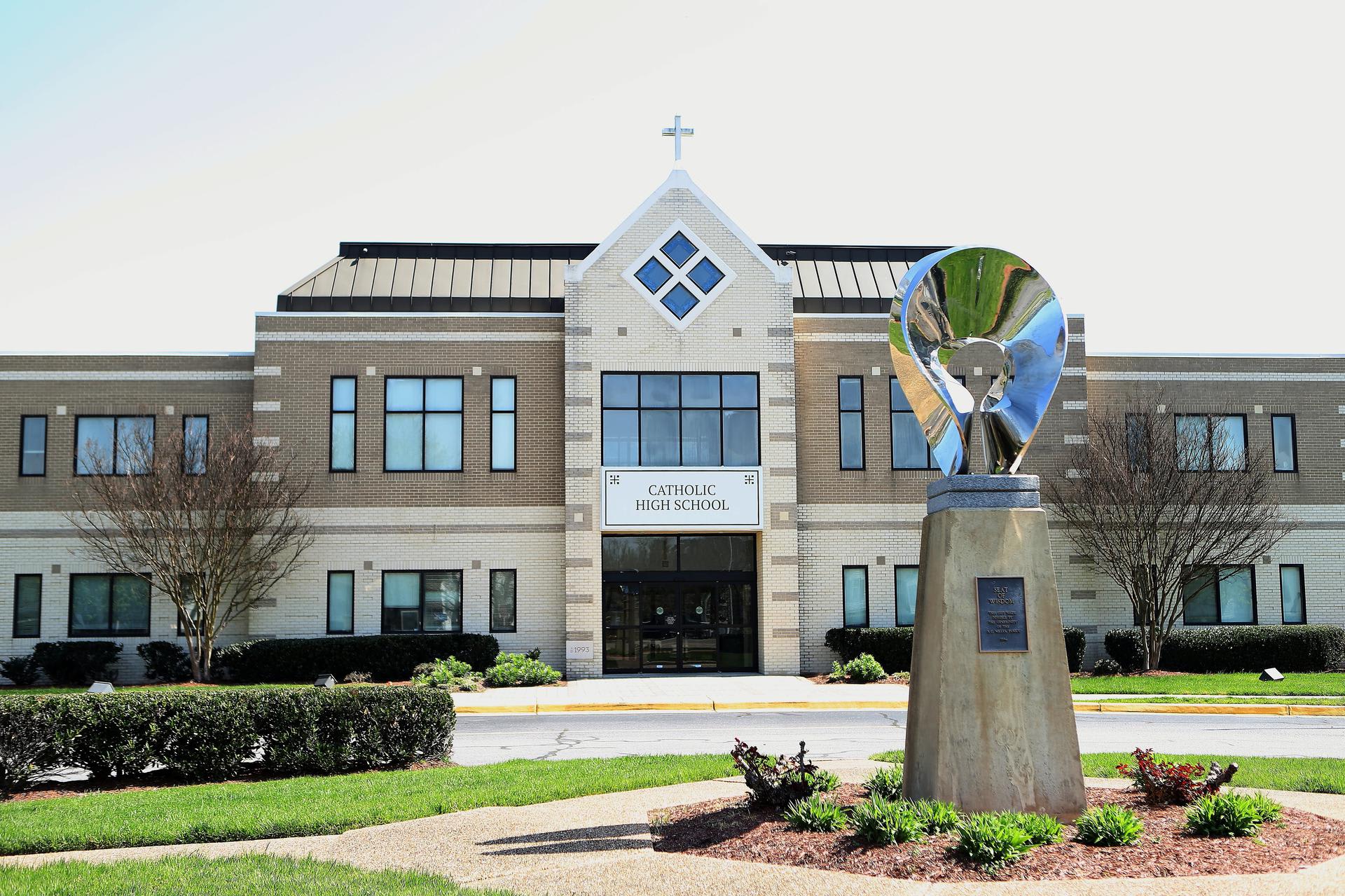 Important Dates

February
5 First Friday Senior Celebration
Early Release Day
6 Catholic Schools Week Ends
8 Blood Drive
14 Valentine's Day
15 President's Day
No School
19 Third Quarter Interim Grades Reported
Early Release Day
25 Parent/Teacher Conferences