Dear CHS Families,
Our faculty and staff are becoming quite adept at making the best of a tough situation. On Wednesday, January 20 CHS experienced connectivity issues that required more than a simple fix. Our Technology Coordinator, Mr. Thomas Salazar endeavored to explore and resolve these issues for the better part of the school day, working with colleagues behind the scenes and network engineers. Mr. Covington contacted the remote learners to inform them of the issue when it occurred and again after it was resolved.
As I walked around checking on teachers and students in the building without internet connection, it was interesting to hear their responses. Many teachers reported that they went "old school", as they called it, focusing on conversing in the target language, reading and analyzing passages in novels, reviewing for upcoming assessments, completing math problems on paper, going outside for PE, and completing hand-on activities. The students I spoke to about their classes assured me that they were "still working" in each class. One student commented on how it had been the absolute best day! When I asked why, she shared that it was a relief to close the Chromebook and to engage in meaningful discussions with her classmates and teachers. She said that they had engaged in the most interesting and wonderful subject-based discussions in classes that day!
Although we experienced a modern day inconvenience, one we do not want to repeat anytime soon, it was inspiring to see CHS faculty quickly modify their lesson plans and CHS students grateful for the time to engage in meaningful class discussions with their peers and teachers.
Peggy Boon
CHS Principal
The following Band students who auditioned for District Band were selected for recognition:

Symphonic Band:


Matthew Rakowski (10th Grade) - Trumpet




Larissa Padilla (10th Grade) - Flute



Concert Band:


Emily Eason (9th Grade) - Bb Soprano Clarinet



Congratulations to our musical Crusaders!
 
Campus Ministry Update: Usually this time of the year finds us preparing to attend the March for Life and spending extra time in prayer for an end to abortion and the recognition of life from conception to natural death. This year Bishop Knestout has asked that all parishes and schools offer up Mass on Friday, January 29th for this special intention. In addition to celebrating that Mass, the Students for Life Club and CRU Ministry will be partnering up to sponsor a Right to Life Drive. 

From Monday, January 25th to Friday, January 29th, we will be collecting baby supplies to donate to a few Crisis Pregnancy centers in the area that support single and struggling mothers. We ask that you bring in supplies for babies aging from newborn to 12-14 months. Some appropriate supplies to bring would be diapers, clothing, blankets, bottles, formula, pacifiers, and burp cloths. Students can bring in supplies any day next week and set them at the table in the entryway across from the chapel.

**Due to Mass being held on Friday of next week, S

pirit Day/Senior's College Sweatshirts can be worn on Thursday, January 28 instead.


 

Principal's List Recognition:

Those students who achieved First Semester Principal's List will be recognized with breakfast treats in their first bell class on Thursday, January 28.  
Team Shops:

 
Football: Closes Jan 28.
Field Hockey: Closes Jan 25.
 

Athlete(s) of the Week(s):


Jan 3-9 Austin Miranda, Swimming: 

Senior Captain, Austin Miranda, was the winner of both the 200 Freestyle & 100 Breastroke. Austin led the CHS boys to a win over NSA and Norfolk Chrisitan during the virtual swim meet on Jan 9.





Jan 10-16 Jessica Ballance, Cheerleading: 

Jessica's dedication to her academics and to cheer for the last 4 years has led her to be the top of her class and co-cheer captain. She is a teammate that can be trusted and relied on. As a graduating senior, Jessica leads her team in cheers during games and practice often spending time to learn new material on her own time. This season has been eventful and Jessica has never let it stop her from having a positive attitude and keeping the rest of the team excited and grateful for the opportunities that we have. 


 
Fall Game Schedules are now live on the CHS Athletics Website. Last-minute changes often occur, especially this year! So be sure to set your team text alerts and touch base with each coach to ensure that you are on the team distribution list. Instructions on setting alerts can be found here:  Setting your Athletic Alerts: Parent/Player Instructions.
 

Remind App for Athletes and Parents:

 

For text message reminders concerning important announcements for athletics, please download the remind app and join the following applicable group(s):



Class of 2021 Athletes and Parents: crusader21
Class of 2022 Athletes and Parents: crusader22
Class of 2023 Athletes and Parents: crusader23
Class of 2024 Athletes and Parents: crusader24
 
Face Coverings for Athletics: Face coverings for athletes are required at all times indoors. For outdoor sports, face coverings are required during warm-up, cool down, in the locker rooms, on the sidelines, and during team talks. They are encouraged, but not mandatory during high cardiac activity, scrimmages, and games. In order to make sure your athletes are comfortable, be sure to purchase face coverings made for athletics: adjustable ears, moisture-wicking, plenty of room in the nose and mouth area, etc. 
 

Congratulations to the Varsity Girls (6-3) and Boys Basketball teams (9-2), ranked #2 in the mid-January VISAA poll! Be sure to tune in to watch our CRU live! This week, our teams will be competing at the end of the season TCIS Invitational Tournam

ent on the NFHS Network! 
IMPORTANT JUNIOR ANNOUNCEMENT

College Planning for Juniors:

 

Counselors are preparing to hold spring meetings with juniors and their parent(s)/guardian(s) for college planning. The appointment process for the Junior College Planning Meeting is ongoing with meetings starting Monday, January 25. 




Here is the Junior Meeting Request Form link for parent(s)/guardian(s) to complete: 

CHS Junior Meeting Request Form.

Parent(s)/Guardian(s), when making your meeting request, please take into account not only both of your schedules but also your student's schedule. We encourage you to request times that coincide with a student's Study Hall or an elective class. Mrs. Bonvie, our School Counseling Secretary, will then email you to confirm your appointment date and time. If you do not receive the email after College Night, first please check your "Spam" box or email Mrs. Bonvie at bonviet@chsvb.org 
 

IMPORTANT NOTE TO SENIORS

SAT/ACT Registration: 

The registration deadline for the March 13, 2021, SAT is February 12, 2021. Late registration, for an additional fee, is March 2, 2020.  Register online at www.collegeboard.org.  Catholic High School will be a test site for the March and June SAT dates.  



​​​​​​​The next ACT will be February 6, 2021, with a registration deadline of January 15, 2021.  Catholic High School is not a test site for the ACT.  Consult www.act.org for further information.   
Please make sure that all outstanding tuition and fees, class/course charges and SAGE balances are paid in full prior to the release of first semester report cards. If you are unsure that you have a balance, please reach out to the business office.

FINANCIAL AID APPLICATIONS are due by March 1st. Apply online at online.factsmgt.com/aid. If you have any questions regarding the online application process, you can reach FACTS support at 866-441-4637.

Families that have re-enrolled and did not indicate that they will be applying for financial aid and/or scholarship will receive their tuition contracts in about a week or so.
Please help us continue to be a shining example of how to successfully educate our students while keeping our school community safe by communicating with the school nurse regarding all illnesses, keeping children home when sick, and practicing everyday safety preventive measures.
Asthma, Allergies, Seizures, or Diabetes COVID REMINDERS:
If your child has Asthma, Allergies, Seizures, Diabetes, or carries an inhaler or EpiPen an action plan must be completed regarding these illnesses. The student will need to have a copy of this plan with them at all times as well the nurse must have a copy. These action plans can be found on the Magnus portal and the Health/Clinic link on the Catholic High School website.

The self-carry order that is required for inhalers and EpiPens is attached to the Asthma and Allergy Action Plan.
COVID REMINDERS-What you need to know about daily activities and going out: 
In general, the more closely you interact with others and the longer that interaction, the higher the risk of COVID-19 spread.

If you decide to engage in public activities, continue to protect yourself by practicing everyday preventive actions.

Keep these items on hand when venturing out: a face mask, tissues, and a hand sanitizer with at least 70% alcohol, if possible.
Frequently Asked Questions about COVID-19 Vaccination
Thank you for your continued cooperation! Please feel free to contact me directly with any questions or concerns at dellingerm@chsvb.org or (757)-615-0246.  
Madison Dellinger
CHS School Nurse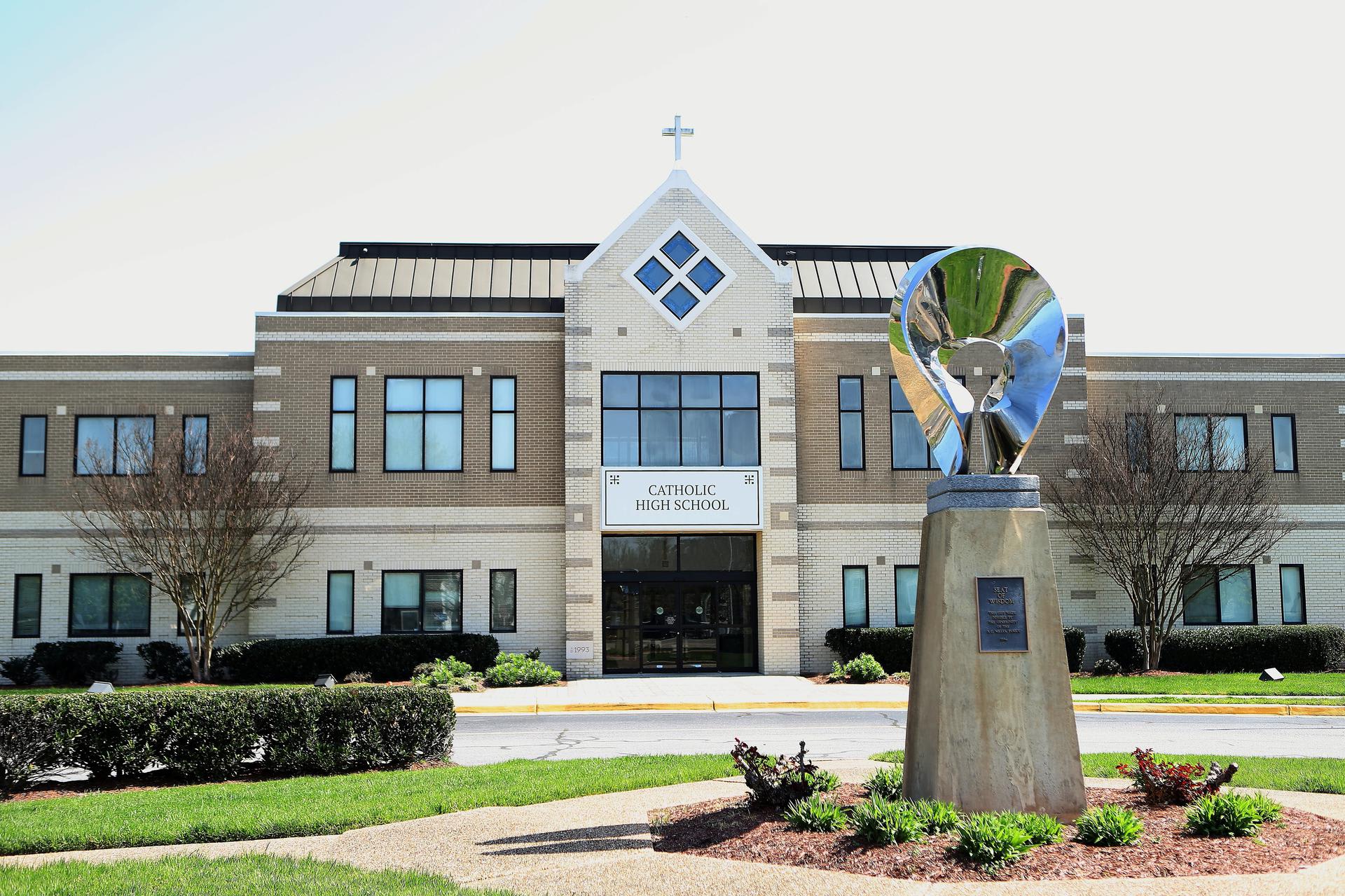 Important Dates


January
22 First Semester Report Cards Released
28 Principal's List Breakfast
31 Catholic Schools Week Begins
February
5 First Friday Senior Celebration
Early Release Day
6 Catholic Schools Week Ends
8 Blood Drive
14 Valentine's Day
15 President's Day
No School
19 Third Quarter Interim Grades Reported
Early Release Day
25 Parent/Teacher Conferences