Dear CHS Families,
Catholic Schools Week begins this Sunday! Plans for the entire week are listed below. There is much to celebrate in Catholic education, especially this school year! The CHS mission drives all of our actions in providing a Catholic, values-based education that prepares students for college and future endeavors. The Catholic High School community deserves recognition for their collective efforts to maintain a faith-filled, in-person learning environment during the global pandemic. Thank you for your continued commitment to the school community and to our faculty and staff!
Peggy Boon
CHS Principal
Catholic Schools Week 2021: Beginning Sunday, January 31 we will celebrate National Catholic School Week. The events are part of the nationwide celebration of Catholic education during the week of January 31 through February 6. The theme is "Catholic Schools: Faith. Excellence. Service." Catholic schools have a specific purpose to form students to be good citizens of the world, love God and neighbor and enrich society with the leaven of the gospel and by example of faith. We have a whole week of activities planned to show what our students are accomplishing and to celebrate the community we have built to educate tomorrow's citizens and church leaders.

Click here for details on the events of each day, and please encourage your student(s) to participate in all the fun!
 
Carnation Sale: SCA is selling carnations for Valentine's Day! Carnation orders may be placed to Ms. Adamski (Room 218) or Mrs. Patterson (PE Office), February 1- February 9 for $1.00 each. Students may fill out or print their note and bring it at the time of purchase. This year, we can only accept exact change. Carnations will be distributed during 2nd block on February 12th (Green Day).
 
The Student Council Association (SCA) is selling this year's official CHS Spirit Shirt for $20! Orders may be placed January 25- February 5! Sizes include XS- 4XL. Students may turn in shirt order forms and payment to either room 218 (Jennifer Adamski) or the PE Office (Kristin Patterson). Exact change or checks made payable to CHS are the accepted forms of payments. You may also order online here. Below is a picture of the CHS Spirit Shirt!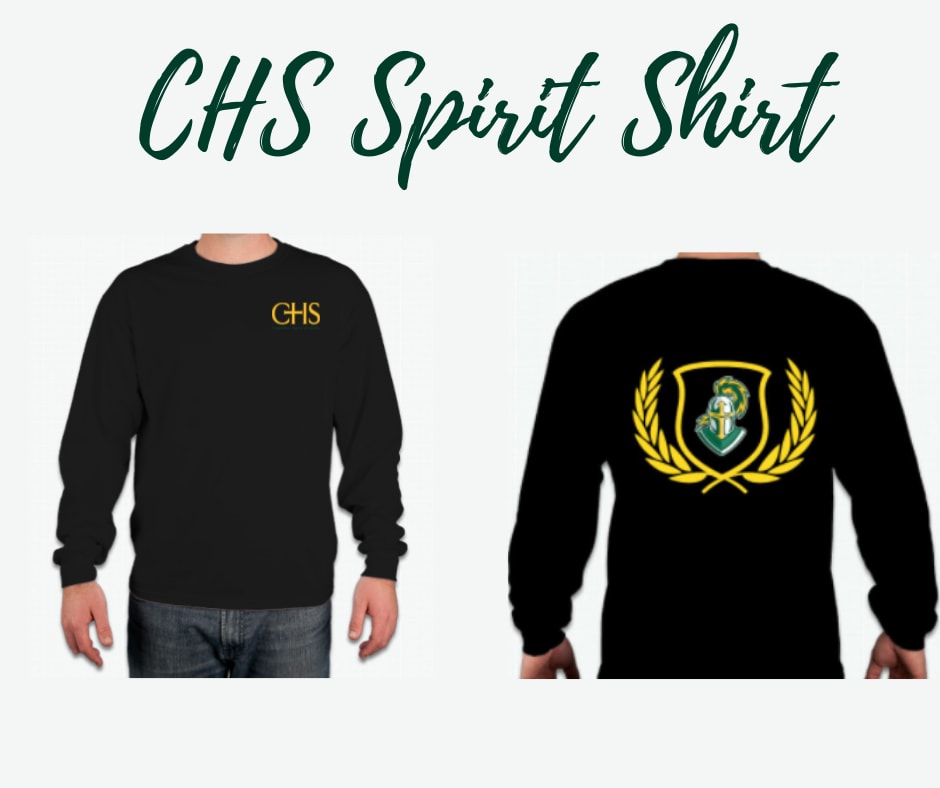 Join the Cut Out CRU!! Support our sports teams by being a familiar face in the stands! Deadline to order: Wednesday, February 3rd!
 
Congratulations, Josiah R., Varsity Boys Basketball- Athlete of the Week for January 17-23. Josiah averaged 12 points, 4 rebounds and 2 steals a game last week while playing stellar defense for the Crusaders, taking them to the semifinals in the TCIS invitational tournament. Great work, Josiah!
 
Winter Sports Pictures will take place Tuesday, Feb 2 from 3:30 p.m. - 4:30 p.m. in

the theater.

 

All Winter sports athletes and coaches, including wrestlers, need to have their individual picture taken for the yearbook. Please dress in your home uniform. Bring prefilled order form along with a check if you would like to purchase! Picture forms can be found on the shelf outside the AD office. 
 
Get your fan and team gear at the Catholic High School Football Apparel My Team Shop by January 28th.
 
Get your fan and team gear at the Catholic High School Baseball Apparel My Team Shop by February 8th!
 
Fall Game Schedules are now live on the CHS Athletics Website. Last-minute changes often occur, especially this year! So be sure to set your team text alerts and touch base with each coach to ensure that you are on the team distribution list. Instructions on setting alerts can be found here:  Setting your Athletic Alerts: Parent/Player Instructions.
 
Remind App for Athletes and Parents: For text message reminders concerning important announcements for athletics, please download the remind app and join the following applicable group(s):

Class of 2021 Athletes and Parents: crusader21
Class of 2022 Athletes and Parents: crusader22
Class of 2023 Athletes and Parents: crusader23
Class of 2024 Athletes and Parents: crusader24
 
Face Coverings for Athletics: Face coverings for athletes are required at all times indoors. For outdoor sports, face coverings are required during warm up, cool down, in the locker rooms, on the sidelines, and during team talks. They are encouraged, but not mandatory during high cardiac activity, scrimmages, and games. In order to make sure your athletes are comfortable, be sure to purchase face coverings made for athletics: adjustable ears, moisture wicking, plenty of room in the nose and mouth area, etc.   
IMPORTANT JUNIOR ANNOUNCEMENT

College Planning for Juniors:

 

Counselors are preparing to hold spring meetings with juniors and their parent(s)/guardian(s) for college planning. The appointment process for the Junior College Planning Meeting is ongoing with meetings starting Monday, January 25. 




Here is the Junior Meeting Request Form link for parent(s)/guardian(s) to complete: 

CHS Junior Meeting Request Form.

Parent(s)/Guardian(s), when making your meeting request, please take into account not only both of your schedules but also your student's schedule. We encourage you to request times that coincide with a student's Study Hall or an elective class. Mrs. Bonvie, our School Counseling Secretary, will then email you to confirm your appointment date and time. If you do not receive the email after College Night, first please check your "Spam" box or email Mrs. Bonvie at bonviet@chsvb.org.
 

IMPORTANT NOTE TO SENIORS

SAT/ACT Registration: The registration deadline for the March 13, 2021, SAT is February 12, 2021. Late registration, for an additional fee, is March 2, 2021. Register online at www.collegeboard.org. Catholic High School will be a test site for the March and June SAT dates. 

The next ACT will be April 17, 2021, with a registration deadline of March 12, 2021. Catholic High School is not a test site for the ACT. Consult www.act.org for further information.   

Sophomores, Juniors, and Seniors: Our annual American Red Cross Blood Drive will be held on Monday, February 8th from 8:00 a.m. to 2 p.m.  You will have an opportunity to save 3 lives by donating a pint of blood!  You can sign up to be a donor by scanning the Blood Drive QR code located in your classes OR drop by the School Counseling Office to sign up today. 16-year-old donors must have a signed Parent Consent Form, please scan the Parent Consent Form QR code located in your classes OR pick up a printed copy of the Parent Consent Form in the School Counseling Office. 

Here is the Blood Donor link: Blood Drive Donor Sign Up 
2021-2022 CHS SCHOLARSHIP APPLICATIONS: Catholic High School is currently accepting Scholarship Applications for the 2021-2022 school year. As a reminder, the CHS Scholarship Application is done completely online. 

Please visit chsvb.org > Admissions > Tuition, Financial Aid & Scholarship Opportunity > Scholarship Opportunities > 2021-2022 CHS Scholarship Application  

It's also one of the Focus of the Moment tabs.

Please note: CHS SCHOLARSHIP APPLICATIONS ARE DUE ON or BEFORE MONDAY, MARCH 1, 2021.  

Financial aid applications are due by March 1st. Apply online at online.factsmgt.com/aid. If you have any questions regarding the online application process, you can reach FACTS support at 866-441-4637.

Tuition contracts will be emailed on a rolling basis to families that have re-enrolled and did not indicate that they will be applying for financial aid and/or scholarship.  
All students waiting for rides outdoors or walking on school property after school must wear a mask and maintain a 3-6 foot distance from one another in compliance with state, diocesean, and school policies. Once safely in the vehicle, the student may remove his/her mask.
COVID Guidance:

Students must stay home from school in the event that: You or anyone in your household is experiencing signs of COVID-19 such as:

Fever (100.4 F), Cough, Difficulty breathing, Muscle or body aches, Sore throat, Headache, Nausea, Vomiting, Diarrhea, Fatigue, Loss of taste or smell 

It is imperative that you notify the school nurse if your child is experiencing any COVID-19 symptoms or you choose to test your child.

Please remember that student health information is protected and should remain confidential.

Following policies in regards to mask-wearing is a critical component in maintaining a safe, healthy, in-person learning environment.


 

Our CHS staff has begun to receive their COVID-19 vaccinations. I would like to thank Mrs. Boon and Mrs. Looney at the Diocese of Richmond for helping to make this happen for our staff. We are so grateful for the opportunity and continue to pray for all healthcare professionals during this time!
Thank you for your continued cooperation! Please feel free to contact me directly with any questions or concerns at dellingerm@chsvb.org or (757)-615-0246.  
Madison Dellinger
CHS School Nurse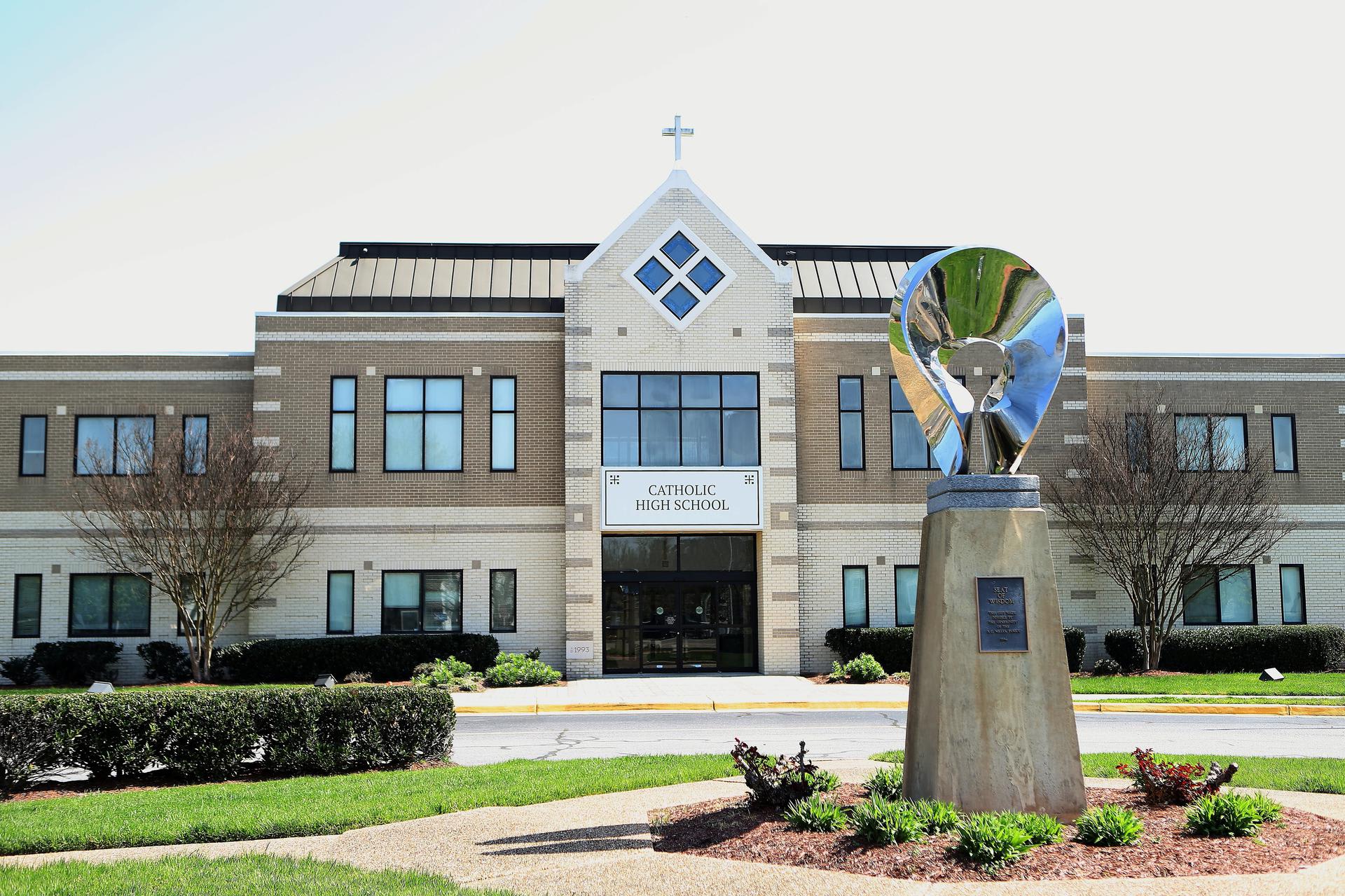 Important Dates


January
31 Catholic Schools Week Begins
February
1 Principal's List Breakfast
5 First Friday Senior Celebration
Early Release Day
6 Catholic Schools Week Ends
8 Blood Drive
14 Valentine's Day
15 President's Day
No School
19 Third Quarter Interim Grades Reported
Early Release Day
25 Parent/Teacher Conferences